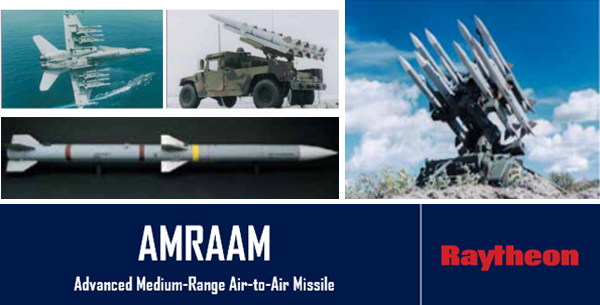 "AMRAAM's Performance and Reliability is Combat-Proven!"
THE ADVANCED Medium-Range Air-to-Air Missile (AMRAAM) is combat-proven. AMRAAM has scored combat victories over the skies of Iraq, Bosnia, and Kosovo. Operational reliability of the AMRAAM is measured in thousands of hours – an order of magnitude improvement beyond other systems.More than 1500 hours of mean-time-betweenfailure are being exhibited by production AMRAAMs being flown daily by the air forces of 18 nations. With state-of-the-art active radar guidance,AMRAAM packs unprecedented performance into a lightweight package. Because of the incorporation of the latest digital technology and microminiaturized solid-state electronics.

AMRAAM provides operational flexibility and multishot capability. AMRAAM can be launched at an enemy aircraft day or night, and in all weather. At beyond visual ranges (BVR), it is guided initially by its inertial reference unit and microcomputer.

AMRAAM is in full rate production in Tucson, Arizona Raytheon's Total Systems Performance Responsibility (TSPR) extends the evolutionary growth of AMRAAM, well into the future. Performance, reliability and affordability with state-of-the-art technology is Raytheon's commitment as the affordable, high-quality producer of missiles.
BENEFITS
Highest dependability at lowest cost of ownership
Operational flexibility
Multishot capability
State-of-the-art active radar guidance