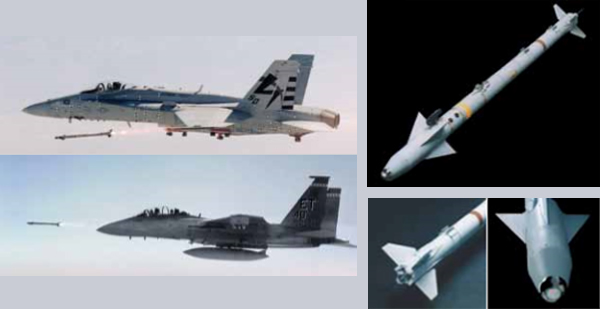 AIM-9X Sidewinder
The AIM-9X is the newest member of the AIM-9 Sidewinder short-range missile family in use by more than 40 nations around the world. This next-generation Sidewinder missile passed operational evaluation in November 2003 and was approved for full-rate production in May 2004.
Enhanced Capability
The AIM-9X acquisition plan addresses the urgent warfighting requirement for the develop- ment and deployment of a next-generation Sidewinder to replace the AIM-9M. AIM-9X is a launch-and-leave air combat missile that uses passive infrared (IR) energy for acquisition and tracking. The AIM-9X can be employed in both near beyond visual range and within visual range arenas. Complemented by the Advanced Medium-Range Air-to-Air Missile (AMRAAM), the AIM-9X equipped warfighter has offensive firepower that is unmatched by any other weapon systems in the world. The AIM-9X program addresses the requirement for evolutionary improvements to the AIM-9 series missile through revolutionary advancements. This extends the operational effectiveness of existing inventories at an affordable cost while continuing the evolution of the AIM-9 series.
AIM-9X provides the warfighter with the following capabilities: full day/night employment, resistance to countermeasures, extremely high off-boresight acquisition and launch envelopes, greatly enhanced maneuverability and improved target acquisition ranges. The AIM-9X airframe coupled with other advanced features gives fighter pilots a significant tactical advantage in the dogfight arena. The AIM-9X uses an extremely agile thrust vector controlled airframe. Configured with a mature and high-performance staring focal plane array (FPA) sensor and existing AIM-9M components (rocket motor, warhead and fuze), AIM-9X evolutionary design is a low-cost, low-risk, all-up-round evolutionary design with robust performance. The digital design architecture of the AIM-9X provides growth capability to ensure air superiority in the future.
AIM-9X Development AIM-9X is a joint U.S. Navy and U.S. Air Force program with the Navy designated as the Executive Service. Several nations have already selected AIM-9X as their next short-range missile, and potential exists for procurement by numerous other coalition nations. The first AIM-9X air launch was accomplished in March 1999. This milestone was the first in a series of separation and control test vehicle and guided launches. From 1999 to 2001, the AIM-9X program launched 19 separation and control test vehicles and 18 guided launches from U.S. Navy F/A-18 and U.S. Air Force F-15 aircraft. Of the 18 guided firings, 14 resulted in direct hits against QF-4 unmanned drones. The AIM-9X engineering and manufacturing development (E&MD) phase completed the development of the missile
tactical system design and established the weapons system interface with the F-15C and F/A-18C/D aircraft and the joint helmet-mounted cueing system. U.S. government development and operational testing plans include extensive captive carry reliability testing and free-flight guided launches. In addition to the F/A-18C/D and the F-15C, AIM-9X will be integrated on the Navy F/A-18E/F and the Air Force F-15E, F-16, the Joint Strike Fighter, and the F-22 during Follow-on Test and Evaluation. AIM-9X is fully compatible with the LAU-12X series and the LAU-7 launchers.
The Threat
For more than 40 years, U.S. and coalition fighter pilots have enjoyed air superiority in short-range engagements. Now, however, current threat missiles, aircraft and environments may eclipse this advantage ... demanding a new fifth generation Sidewinder Missile — the AIM-9X.
AIM-9X – The Answer
In modern short-range air-to-air combat, first-shot/first-kill capability is necessary to ensure victory in today's high technology battlefield. Coalition fighter pilots will enter the fight with AIM-9X, a missile that retains the essence of Sidewinder heritage, while employing a fifth-generation seeker and thrust vectoring control for unprecedented performance. The Raytheon team's experience in advanced IR technologies, weapons systems integration and affordable missile production provides an AIM-9X that ensures air superiority for the 21st century.
Unprecedented
Superior Performance Exceeds Tactical Requirement
Greatly enhanced acquisition ranges in blue sky and clutter
IR countermeasures resistance to meet the threats of today and tomorrow
Extremely high off-boresight capability gives the pilot the first-shot first-kill opportunity
Highly agile airframe
Inherent growth potential
Fifth Generation
Leadership in Advanced IR Missiles and Weapon Systems Integration Brings the Warfighter Unprecedented Technology Today — AIM-9X. Raytheon's commitment and acknowledged leadership in advanced IR missile design enabled a low-risk, low-cost development phase that ensures air superiority for the U.S. and coalition warfighter. Mature enabling technologies that include staring FPAs, adaptive compensation techniques, and advanced IR signal processing permit a low risk E&MD phase. The Raytheon AIM-9X team is a world leader in advanced digital aircraft weapons integration. This weapon system design experience includes the AMRAAM; the AMRAAM/ AIM-9X compatible digital launcher; the F-14D, F/A-18E/F and F-15 advanced radars; and the F-22 weapon system. Raytheon understands the digital combat environment and the critical weapon system parameters necessary to fight and win in the pre- and post-merge arena.
Smarter
Revolutionary Ideas Through Evolutionary Development. The critical path of any missile development is through the seeker. The payoff from leveraging an in-production
seeker and Raytheon's extensive commitment to advanced fifth-generation IR technologies is a low-cost, low-risk AIM-9X development. Raytheon's advanced, mature IR FPA sensor and innovative guidance and control design combined with reuse of existing components presents an AIM-9X that is affordable and lethal. Features such as a cryoengine and an extended warranty significantly reduce the cost of ownership while increasing the AIM-9X tactical utility and availability. Raytheon's integrated product team culture and lean manufacturing techniques are combined with acquisition reform initiatives to produce an affordable, low-risk, and highly reliable AIM-9X design.