Submarine combat team trainner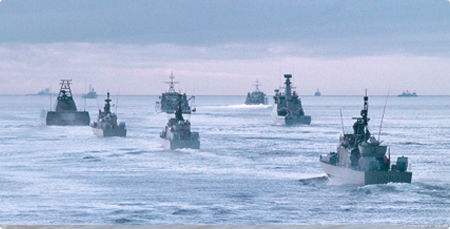 KONGSBERGs PROTEUS Action Speed Tactical Trainer (PROTEUS - ASTT) provides high fidelity naval tactical training.

This training system has been designed and continuously upgraded to maintain our state-of-the-art PROTEUS - ASTT solution.

The purpose of the PROTEUS- ASTT is to train the naval command team in the tactical decision making process. Crew coordination and mission hand-off procedures are critical in this process and are effectively trained using Proteus.

The standard configuration of the PROTEUS - ASTT contains instructor stations as well as the training cubicles for surface ship, submarine, aircraft and helicopter positions including the related sensors, combat management systems and weapon simulation. The PC-based workstation cubicles can be configured as necessary to meet the customers training requirements and to achieve the desired training throughput.

The system is also scalable meaning the functionality can be executed on a stand-alone laptop, in the standard training cubicles, or in a WAN environment using HLA to link the system to other trainers or simulators. The system enables multi-level training from basic operational skills up to CIC team coordination and communications as part of tactical naval warfare operations. Naval warfare operations are trained using exercises focused upon:
Anti-Submarine Warfare
Anti-Air warfare
Anti-Surface Warfare
Electronic Warfare
Mine Countermeasures
Multiple exercises, such as those listed above, can be executed simultaneously on the trainer. The system also enables the procedural, tactical and operational training for sonar operations, radar operations and communications operations. Full instructor functionality including those required for replaying, debriefing and evaluating each exercise and provided within the core of the PROTEUS - ASTT.